---
| | |
| --- | --- |
| Claude E. Spencer | Walter Scott, 1796-1861 . . . Books by and about (1961) |
---
FROM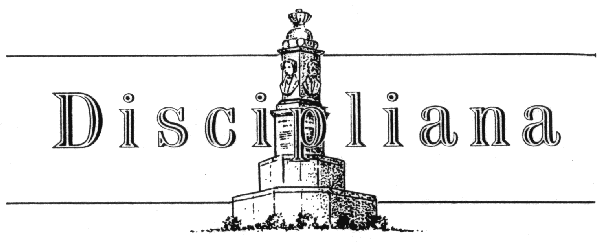 ---
---
Walter Scott, 1796-1861 . . . Books by and about
In previous Basic Bibliographies the works of Alexander Campbell, Thomas Campbell, and Barton W. Stone have been listed together with books and theses about them. In this issue the fourth of the "big four" is presented.
Scott, the evangelist of the early Disciple movement, was born in Moffatt, Scotland, October 31, 1796. He came to America in 1816 where he found employment as a teacher in George Forrester's academy in Pittsburgh. Immersed by Forrested he became a friend of the Campbells. As evangelist for the Mahoning Association he evolved the famous "five-finger exercise": faith, repentance, baptism, remission of sins, and the gift of the Holy Ghost. His varied career as preacher, author, editor and teacher ended with death April 23, 1861 at Mays Lick, Ky.
Scott's Work
The Autobiography of Walter Scott (1796-1861), Edited, with a Foreword by Roscoe M. Pierson. Lexington, Ky., Bosworth Memorial Library, The College of the Bible, 1952. iii, 5 p. (Reprints of Disciple Documents, No. 2.)
A Discourse on the Holy Spirit, 2d ed., Enlarged and Improved. Bethany, Va., Printed by Alexander Campbell, 1831. 24 p.
We do not know when the first edition was published or who was the printer.
The Death of Christ. Cincinnati, H. S. Bosworth,? 132 p.
First published with title: HE NEKROSIS.
The Evangelist, monthly, 1832-1844.
Scott edited this periodical, with various sub-titles, from Cincinnati and Carthage, Ohio. There were substitutions (see Gospel Restored) and suspensions, with new series numbering. We have not seen a complete file.
Volume 1, 1832, was photolithoprinted by the Harbinger Book Club in 1950.
The Gospel Restored. A Discourse of the True Gospel of Jesus Christ, in Which the Facts, Principles, Duties, and Privileges of Christianity are Arranged, Defined, and Discussed, and the Gospel in its Various Parts Shown to be Adapted to the Nature and Necessities of Man in His Present Condition. The Evangelist for the Current Year. Cincinnati, Printed by O. H. Donogh, 1836. 576 p.
This book was published in place of Volume 5 of The Evangelist, ed. by Scott.
HE NEKROSIS, or the Death of Christ, Written for the Recovery of the Church from the Sects. Cincinnati, Walter Scott, 1853. 132 p.
Also published as The Death of Christ.
The Messiahship; or, Great Demonstration, Written for the Union of Christians, on Christian Principles, as Plead for in the Current Reformation. Cincinnati, H. S. Bosworth, 1859. 384 p.
A very popular book that went through several printings. In the 1940's it was photolithoprinted by the Old Paths Book Club.
The first printing did not have the table of contents arranged by parts and sub-heads, and the poem "Jacob and the Angel" was not signed with the initials W. S.
"Moses and Christ" (1859) (In Rowe, F. F., ed. Pioneer Sermons and Addresses, 1925, pp. 163-182.)
The Protestant Unionist, weekly, Pittsburgh, Pa. 1844-1850.
Scott edited, with various associates, this periodical from Vol. 1, no. 1, September 25 to Vol. 6, no. 23, May 25, 1850. With the January 6, 1849, number the title was changed to the Christian Age and Protestant Unionist.
Psalms, Hymns, and Spiritual Songs, Original and Selected; Compiled by A. Campbell, W. Scott, B. W. Stone and J. T. Johnson, Adapted to the Christian Religion. Bethany, Va., Printed by A. Campbell, MDCCCXXXIV. 247, 9 p.
This work went through many revisions with numerous printings of each revision, 1834-1856. Scott published an edition in 1835 under his imprint at Carthage, Ohio. [26]
A review of Prof. Stone's Pamphlet Against All Millennial Arithmetic . . Cincinnati, R. P. Donogh, 1843. 24 p.
TO THEMELION; the Union of Christians on Christian Principles. Bethany, Cincinnati, Lexington, C. A. Morgan & Co., 1852. 128 p.
Also published as The Union of Christians.
The Union of Christians, on Christian Principles. Cincinnati, Jethro Jackson, Christian Publication Rooms, 1852. 128 p.
First published with the title TO THEMELION.
The Union of Christians. (In Wells, G. M. Memoirs of Elder Milton Wells. 1886, pp. 109-191.)
"The United States System. An Address." (In The College of the Bible Quarterly, Vol. XXIII, No. 2, April, 1946, p. 4-44.)
About Scott
BAXTER, William
Life of Walter Scott; With Sketches of His Fellow-Laborers, William Hayden, Adamson Bentley, John Henry and Others. Cincinnati, O., Bosworth, Chase & Hall, 1874. 450 p. front. (port.)
Reprinted several times by various publishers. A photolithoprint edition was published by the Gospel Advocate Co., in the mid 1950's.
Life of Elder Walter Scott. The Walter Scott Centennial edition, abridged by B. A. Abbott. St. Louis, Mo., Bethany Press, 1926, 215 p., (port.)
BOLES, Henry Leo
"Walter Scott." (In his Biographical Sketches of Gospel Preachers, 1932, pp. 72-76.)
GRAFTON, Thomas Warren
"Walter Scott." (In his Men of Yesterday, 1899, pp. 17-61.)
HALEY, Jesse James
"Walter Scott, Masterful Preacher and Teacher." (In his Makers and Molders of the Reformation Movement, 1914, pp. 59-76.)
HAYDEN, Warren Luse
"Walter Scott, Finisher of the Great Restoration." (In his Centennial Addresses Delivered in 1909, p. 31-40.)
SNODDY, Elmer Ellsworth
"Barton W. Stone and Walter Scott, Ambassadors of the Everlasting Gospel." (In his Texas State Convention Addreses, 1931, pp. 5-9.)
STEVENSON, Dwight Eshelman
Walter Scott, Voice of the Golden Oracle, A Biography. St. Louis, Mo., Christian Board of Publications, 1946, 240 p. front. (port.) bibliography, index.
"Walter Scott and Evangelism." (In Thompson, E. R., ed. Voices from Cane Ridge, 1954, pp. 164-180.)
TIERS, Montgomery C.
"Walter Scott." (In his The Christian Portrait Gallery, 1864, pp. 90-92½.)
Theses about Scott
FISHBACK, Vernon Len
Some Influences of the of the Idea of the Messiahship in Walter Scott's Program of Church [27] Life as Reflected in His Writings. B. D., Christian Theological Seminary, 1949.
HUBER, Robert Titus
The Doctrine of the Trinity in the Thought of Thomas and Alexander Campbell--Including a Comparison with the Thought of Barton W. Stone and Walter Scott. B. D., Christian Theological Seminary, 1956.
NETH, John Watson, Jr.
An Investigation and Analysis of the Doctrine of Walter Scott. M. A., Butler University, 1950.
NORTH, Ross Stafford
The Evangelism of Walter Scott. M. A., Louisiana State University, 1952.
SMALL, Edward T.
The Contribution of Walter Scott to the Disciples of Christ. B. D., Vanderbilt University, 1930.
WILSON, Herbert John
The Contribution of Walter Scott to the 19th Century Reformation. M. A., Butler University, 1941.
[Discipliana 21 (May 1961): 26-28.]
---
ABOUT THE ELECTRONIC EDITION
Claude E. Spencer's "Walter Scott, 1796-1861 . . . Books by and about" was first published in Discipliana, Vol. 21, No. 2, May 1961 (pp. 26-28). Thanks to Peter M. Morgan, President of the Disciples of Christ Historical Society, for permission to reprint this bibliography as an electronic text at the Restoration Movement site.
I have let stand variations and inconsistencies in the author's (or editor's) use of italics, capitalization, punctuation, and spelling in the bibliography.
Addenda and corrigenda are earnestly solicited.
Ernie Stefanik
Derry, PA
Created 16 October 1998.
Updated 5 July 2003.
---
| | |
| --- | --- |
| Claude E. Spencer | Walter Scott, 1796-1861 . . . Books by and about (1961) |
---
---