Biographical Sketch of James Harvey Garrison
---
Text from Moore, W. T. (editor), The New Living Pulpit of the Christian Church: A Series of Discourses, Doctrinal and Practical, by Representative Men among the Disciples of Christ, St. Louis: Christian Board of Publication, 1918. Pages 77-78. This online edition &copy 1998, James L. McMillan.
---
Born: Ozark, Missouri, February 2, 1842.
Died: Los Angeles, California, January 14, 1931.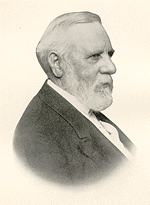 The subject of this sketch belongs to the older men of the last fifty years, some of whom had to be included in this volume order to connect with the pulpit of a half century ago. But on many other accounts he is entitled to a place in any volume intended to represent the best ideals of the Disciples for the period which supplements the pulpit of the Old period. It is true that Dr. Garrison has not for several years been prominent in pulpit work, but it is equally true that in many of the years that are past, he has been recognized as one of the ablest preachers among the Disciples, and is still the peer of any in the quality of his work in the art of sermon building, as his sermon in this volume amply testifies.
J. H. Garrison was born February 2, 1842, near Ozark, in Christian County, Missouri. Lived on the farm, plowing and sowing and reaping and mowing, and hoeing, attending village school in winter, until he was eighteen. Taught a country school at 16 years of age and had one year in an academy in Ozark. Four years in the Union Army from 19 to 23 years of age. Enlisted as private, promoted to sergeant in a few months, wounded in the battle of Pea Ridge, and was promoted to rank of captain of the 8th Missouri Cavalry Volunteers at the age of twenty. Held this position till close of war, though commissioned as major by the governor near its close. Entered Abingdon College in 1865. Took the four years' course in three years and graduated in 1868. One week after graduation he married Judith Elizabeth Garrett, who graduated in the same class with him. At college he identified himself with the Disciples having been a member of the Baptist church since early boyhood.
In 1869 he began his editorial career with J. C. Reynolds, on "The Gospel Echo"--afterwards "The Christian"--which he began publishing in St. Louis in 1874. At the same time he formed the Christian Publishing Company. Later the name of the paper was changed from "The Christian" to "The Christian-Evangelist." In 1881 he went to Southport, England, under the Foreign Christian Missionary Society, remaining for more than a year. In 1884 he went to Boston, Massachusetts, under the American Christian Missionary Society, remaining two years, but during all his absence he continued editor of the paper, even though preaching all the time. It was as editor of "The Christian-Evangelist" that Dr. Garrison did his great life-work. No one can measure the height, depth and breadth of the influence for righteousness that this consecrated weekly visitor brought to homes and hearts in our fair land. Dr. Garrison's service to the cause of Christ, through his paper, has been particularly distinguished. There was universal regret when in 1912, at the age of 70 years, he resigned the active editorship of "The Christian Evangelist," although he has since been editor emeritus and contributes weekly articles. In 1916 he removed his home from St. Louis, Missouri, to Claremont, California, having previously spent much time in that fair state. These are the facts of a full life, although he does not so term it, but says, "I have done very little but it has kept me mighty busy."
Dr. Garrison's personal characteristics are well known. His private life is an open book. No man among the Disciples has more profoundly impressed his Christian life upon the Churches. Both with tongue and pen he has earnestly pled for high ideals in Christian living, and he has emphasized this pleading by illustrating the ideals in his own godly life. Not that he is without fault. He is human like the rest of us. But when we consider the temptations which beset an active public life such as his, it must be conceded that he has come through it all with a character strengthened rather than weakened, leaving a splendid testimony to the power of a worthy Christian life.
Intellectually Dr. Garrison is not a sky rocket, but a steady burning light. He is intuitional, but never loses sight of the outward conditions of life. He is a dreamer, but his dreams all come to him in daylight while he is profoundly awake, and he never forgets that he is still in the body, no matter how beautiful the ideals of spiritual life may appear.
As a preacher he is solid rather than brilliant; strong rather than big; safe rather than novel. He is not an icicle, neither is he a boiling cauldron.
As regards his work in general, he is a liberal conservative. He believes in progress, but does not believe in tearing up the platform on which progress makes its steps.
As a writer he works in the middle of the road, but he keeps moving on the road. He never stands tomorrow just where he is today. With him life is a moving panorama where each step reveals something new, but which is always somewhat related to the old.
---
Back to J. H. Garrison Page | Back to W. T. Moore Page
Back to Biographies at the Restoration Movement Pages
Back to Main Restoration Movement Page